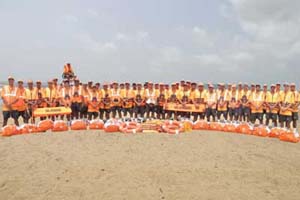 Under its beach safety management programme GTDC has posted 52 trained lifeguards at various locations along the 105 km state coastline. This is in our continuing efforts to prevent incidents of drowning at sea.
These 52 lifeguards will carry out emergency, rescue as well as support functions.
Sanjeet Rodrigues, Managing Director GTDC, says that Rs 5 to 6 lakh have been spent on the training of the lifeguards, while an amount of around Rs 10 to 12 lakh has been utilised for purchasing modern equipment like high visibility binoculars, pocket masks, oxygen resuscitators, portable oxygen cylinders, fluorescent jackets, hand microphones, water goggles and first aid kit boxes among other things.
Mobile lifeguard observation chairs have been provided, while beach observation posts are being designed. A consultancy agency will be appointed soon to monitor the functioning of the lifequards.
The 52 lifeguards were selected from 129 applicants, and have been trained by personel from the National Institute of Water Sports (NIWS) and other agencies.
All the lifeguards have successfully completed Surf Life Saving Techniques (SLST) course through the NIWS and First Aid and CPR course through the Goa branch of the Red Cross Society.
GTDC has done proper analysis of beach stretches which are frequented by tourists as well as locals, and proper emphasis has been laid on areas where drowning deaths have occurred.
The 52 lifeguards have been spread on beaches at Keri, Arambol, Mandrem (Ashvem), Mandrem (Junes), Morjim, Vagator, Anjuna, Baga, Calangute (North and entrance), Candolim, Sinquerim, Miramar, Baina, Bogmalo, Velsao, Arossim, Majorda, Betalbatim, Colva, Sernabatim and Benaulim.
Proper demarcation of beaches into 'Safe Swimming Zones' has been done by marking such zones with two yellow flags, while non-swimming areas are marked with red flags. All demarcated swimming zones are manned by lifeguards with full equipment.
Mr Rodrigues said that the lifeguards have been instructed to display tide timings on day-to-day basis and various pamphlets giving information to tourists on safe swimming would be distributed to all the stakeholders, including tourists.
Apart from this facility, the GTDC has sought help from the locals, respective village panchayats and staff of the forest department at various check posts, especially in certain isolated stretches of beaches which have neither hotels nor shacks.
The major problem faced by the lifeguards is assaults from tourists, who get aggressive when requested not to enter rough waters or accident prone zones in the sea. "We would like the tourists to respect the sea rather than confront it, especially under the influence of the alcohol," said Rodrigues.
2.5 million tourists are expected to arrive in Goa, this tourist season, most of whom will be visiting different beaches around the state. Without cooperation from the tourists, 52 lifeguards will be hard put to protect swimmers along the 105 km coastline of Goa. "However, the Corporation will try to prevent any untoward incident in the beach waters, to the best of its ability."