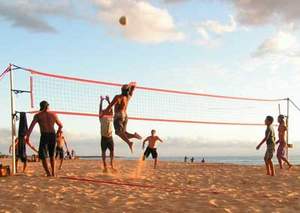 And it's open doors for women this year. Actually that is the theme of this year's World Tourism Day on 27/9/2007. The theme highlights an issue of fundamental importance to our future. Tourism in Goa is one of the main industries sustaining almost 25 per cent of its population directly or indirectly. Tourism is a sector that not only employs a significant number of women, but also provides a number of opportunities for their individual advancement. This is because Tourism is recognized as an industry which has enormous potential for creating sustainable employment in the community in developing countries.
Goa Tourism Development Corporation (GTDC) has chalked out a week-long programme from 27 September 2007 to 2 October 2007 to celebrate World Tourism Day and Goa Tourism Week
From 27th Sept.'07 to 30th Sept.'07, GTDC will be organizing "Femme Fest", a variety exhibition at Miramar Residency Lawns around the newly laid out Cottages within the Residency. The exhibition will display the exceptional talent Goan women portray in the field of Handicraft and embroidery, pot culture, clothes designing and hairstyle, making of exclusive Goan culinary delights, sweets and pickles, exhibition works of art by women artists and exhibiting novels/books by women writers.
On World Tourism Day, Goa Tourism Development Corporation is organizing a "Big Trip to Tropical Spice Farm" which will be flagged off at Santa Monica Jetty at 10.00 a.m. "The Big Trip" on the Santa Monica Cruise vessel in association with Big FM 92.7 Radio Channel will sail along the back waters of the River Mandovi, before arriving at the exotic Spice Farm.
On 28th Sept'07 GTDC will hold a Beach Volleyball tournament at Calangute Beach from 4 p.m. onwards both for Women and Men. The tournament will be organized in association with the Sports Authority of Goa and Goa Beach Volleyball Association. Participation is open to all.
On 29th Sept.'07 a unique Heritage Walk will commence from Panaji Residency at 8.30 a.m. and will highlight the heritage sights of Panaji the capital City. The heritage walk will be led by eminent historian and Member of Goa Heritage Group, Mr Prajal Sakhardande.
On 30th Sept.'07, a vegetarian cooking session will be the highlight of the Femme Fest at Miramar Residency in association with the Vegetarian Society of Goa.
On 1st October'07 a cruise on River Mandovi for special children from Matruchaya orphanage, Kavlem, Ponda on board its cruise vessel Santa Monica with snacks and refreshments will be organized from 4.30 to 5.30 p.m.
On 2nd Oct.'07 GTDC will launch its special cycle tours in Panjim and Old Goa. The cycle tours will entail proper guides, audio commentaries, route maps and will be available with Goa Tourism throughout the season.
GTDC solicits cooperation and participation from the public and tourism and travel trade for making the tourism week a success.
In case of any information, you may contact Mr. Armando Duarte (9371948853) at GTDC Head Office or any GTDC Residency.