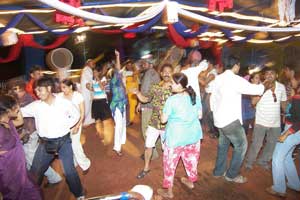 This year Goa Tourism Development Corporation (GTDC) took the initiative to popularize the Bonderam Festival at Divar amongst the tourists from all over India. GTDC organized a special cruise from Panaji to Old Goa. Tourists staying at various GTDC residencies as well as locals availed of this special cruise.
The Santa Monica launch was gaily decorated with colourful flags to give it a festive Bonderam look. The cruise set off at 3.30 pm from Santa Monica Jetty, along Dr. Salim Ali Bird Sanctuary to dock at Old Goa Jetty. There was a lot of live entertainment on board with a solo performance by GTDC, Deputy General Manager, Administration, A. T. Fernandes and DJ music to entertain the guests. After Santa Monica docked at Old Goa, the guests were taken across the river to the island of Divar in the Old Goa ferry and picked up by GTDC coaches to be carried to the festival venue at Divar.
The tourists witnessed traditional celebration of Bonderam Festival and enjoyed the float parade and dance performances which depicted various facets of Goan culture.
The organizers of the festival, Piedade Association from Divar invited Francis Xavier Pacheco, Minister for Tourism as the Chief Guest of the function. Mrs. Pacheco, GTDC Managing Director, Sanjit Rodrigues, Father Assis Dourado and Prasad Harmalkar, President of Piedade Association were also present. Addressing the gathering, Tourism Minister Pacheco praised Piedade Association for organizing the event. He assured them that the Ministry of Tourism will always extend full cooperation for the age old Bonderam Festival. Sanjit Rodrigues in his speech extended support to popularize the traditional event.
After the float parade the guests embarked on Santa Monica for Panaji. Tourists enjoyed the entertainment on board, and were also awarded prizes for competitions held during the cruise. After a delicious dinner on board, the cruise came to an end.
The show on the cruise was compered by GTDC Manager Travels, Armando Duarte. Prizes were awarded by Deputy General Manager, Marketing, L. C. Kavlekar in the presence of Marketing Executive, Ashton Souza, and Public Relations Officer Deepak Narvekar.