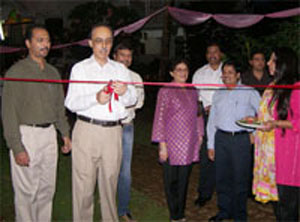 "Femme Fest", a variety exhibition at Miramar Residency Lawns around the newly laid out Cottages within the Miramar Residency and organized by Goa Tourism Development Corporation was inaugurated on World Tourism Day by Dr M. Modassir Secretary Tourism Government of Goa, in presence of Sanjit Rodrigues Managing Director Goa Tourism and other dignitaries.
The exhibition is in line with the World Tourism Organization's theme for this years World Tourism Day, "Tourism opens doors to women". The exhibition which will be on till 2nd October displays exceptional talent of Goan women in the field of handicrafts and embroidery, pot culture, clothes design and hairstyle, making of exclusive Goan culinary delights, sweets and pickles, exhibition works of art by women artists and exhibiting novels/books by women writers.
A large number of people visiting the exhibition were awed by the artistic talent on display. Some of the displays are: Noemi's hair and beauty, fashion from Philu Martins, Books and Books from Broadway, charming lamps from Carla, embroidery & culinary delights from All India Women's Conference, artistic artifacts from Aparant, chocolates from Judy, vegan cookery by Vegetarian Society of Goa, art and craft from YMCA women's forum, Goan memorabilia from Goa Tourism Development Corporation, plants ferns and petals from Lynette, masalas by Terezas, tempting takeaways from Melu and Shallots and works by women authors Divya and from Litteratti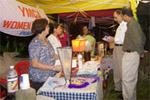 The evening was set in the right mood by excellent ghazal recitations by Sally and her troupe.
Goa Tourism Development Corporation also organized a "Big Trip to Tropical Spice Farm". "The Big Trip" was undertaken on the M.V Shantadurga Cruise vessel in association with Big FM 92.7 Radio Channel. The cruise was flagged off at the Santa Monica Jetty by eminent Tiatr personality Prince Jacob and cruised along the back waters of the Mandovi up to Keri in Ponda. On embarking, the trip to the Tropical Spice Farm in absolute greenery was a treat to all the participants who enjoyed the trek through the farm. The exotic elephant bath was the highlight towards the end of the day.